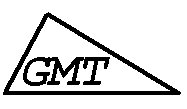 GMT Corporation
メーカー概要
GMT社はスペシャリティケミカルの製造会社で、高密度、高融点の酸化ポリエチレンワックスを製造しております。本製品は床用ワックスやOPV、PVCインクなど幅広い用途で使用されています。そのほか、オイル精製や石油化学プラント向けの化学製品も製造しています。
GMT Corporation is a manufacturer of specialty chemicals.
We produce a range of high density, high melt point oxidized polyethylene waxes which find applications in a wide variety of industries, such as floor polish, OPV, PVC, ink and coatings.
We also produce some specialty chemicals for oil refinery and petrochemical plants, and oxidized polypropylene waxes are in the process of commercialization.